Introduction:
A Cautionary Tale
April 2002 to Nov. 2005
April 2001
August 2001
Periodic Graphics
Definitions
* With the Oct. 31, 2009 closure of my American webhost of 11 years (AtFreeWeb) links in the dissertation and doctoral papers are generally broken. Readers are directed to the Alphabetic Bibliography to access references. Sorry for the inconvenience.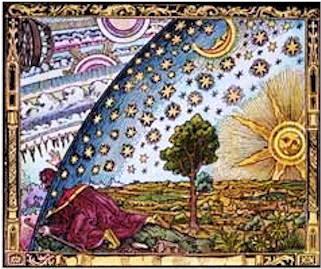 "The Spiritual Pilgrim Discovering Another World"
Woodcut, 19th (?) century reproduced as Plate VII
to C.G. Jung's "Flying Saucers: A Modern Myth"
in Civilization in Transition, Bollingen Series XX,
Princeton University Press, 1964.